COVID-19 Response and Recovery – Volunteer Opportunities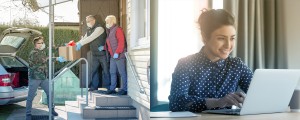 Thank you for your interest in serving our community during the current pandemic. The need for volunteers is high and your contribution is appreciated and valuable.
There are several ways to look for opportunities to serve:
The UWVC website Volunteer Ventura County has several current needs, and opportunities are continually updated. You can find current COVID-19 Response & Recovery opportunities here – http://www.volunteerventuracounty.org/need/index?s=1&need_init_id=3061

Food security is the biggest need at the moment, therefore we have partnered with FOOD Share to direct volunteers to their website for a variety of volunteer opportunities for both individuals and groups.  Please follow this link to see what is available – https://foodshare.com/volunteer/
You are welcome to contact us with any questions at volunteercenter@vcunitedway.org. If you would like to receive periodic updates on disaster response/recovery needs including COVID-19 please consider registering as a Disaster Spontaneous Volunteer – http://www.volunteerventuracounty.org/need/detail/?need_id=311201
Thank you for your service.
Find Your passion.
Help your community.
Volunteer Ventura County (VVC) engages people with meaningful volunteer opportunities to meet real community needs, assists non-profits in developing effective and efficient volunteer programs, and promotes volunteerism and civic engagement.
VVC web-based platform –  (see link below) provides a searchable database of volunteer opportunities provided by local non-profit organizations. Agencies and volunteers are encouraged to register and use this free matching service.
Disaster Spontaneous Volunteers – during disaster response and recovery UWVC recruits and places spontaneous volunteers in direct service and support roles with other local service organizations. If you are interested in becoming part of this cadre please visit VVC and sign-up – Sign up to be a Disaster Spontaneous Volunteer
Volunteer Engagement Capacity Building – by hosting AmeriCorps VIP (Volunteer Infrastructure Project) volunteers, supporting the Ventura County Volunteer Coordinators Council, and partnering with public and private service providers UWVC helps build volunteer service capacity throughout Ventura County.
For more information about VVC please contact Susan Englund at susan.englund@vcunitedway.org or 805.485.6288, x226.