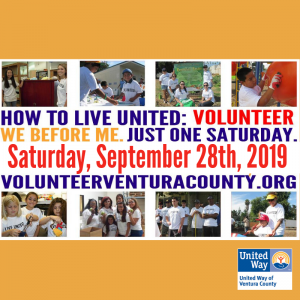 CALL FOR PROJECTS!
United Way of Ventura County is seeking Day of Caring projects
to engage individuals, families, students and/or corporate teams in volunteerism
throughout Ventura County.
ABOUT DAY OF CARING:
Each year for the past 29 years, United Way of Ventura County's Day of Caring (DOC) has connected hundreds of volunteers to community organizations throughout Ventura County. By engaging people in volunteerism, UWVC works to create positive change in our community. In 2018, over 550 individuals, families, and teams volunteered at 29 project sites.
Our 30th Day of Caring will be held on Saturday, September 28, 2019 from 9 AM to Noon. Any non-profit organization in Ventura County is invited to submit a project proposal. Information and the application is available via the following link.
BENEFITS OF HOSTING A PROJECT:
· Gain increased exposure and community engagement
· Fill an unmet organizational need which strengthens your ability to serve the community
· Engage new volunteers in your cause for DOC and beyond
· Benefit from UWVC support in promoting and managing volunteer recruitment, and event publicity such as e-newsletters, local media outreach, social media, flyers etc.
· Day of Caring t-shirt provided for all volunteers
THANK YOU TO OUR SPONSORS!