United Way of Ventura County Advocacy
Promoting, enhancing and monitoring
Public Policy is a significant catalyst for change…it directs funding towards important community health and human service needs that compliment the ongoing fundraising and investment efforts of United Way of Ventura County.
United Way of Ventura County volunteers and staff develop a public policy/legislative agenda to provide guidance on a variety of local, state and federal policy issues. We will provide information to legislators and to the public in an effort to increase understanding and awareness of the impact of policy and budget decisions on health and human services in our community.
Priority Issue – Ventura County Children's Oral Health Collaborative "Building Healthy Smiles"
Vision: Eliminate Untreated Tooth Decay for Children in Ventura County
Mission: The Ventura County Children's Oral Health Collaborative strengthens the system of oral health education and care by:
Involving parents

Working together

Raising awareness

Facilitating communication

Serving as a clearinghouse

Encouraging best and promising practices

Developing resources Sharing data

Advocating for policy changes
Advocacy/Public Policy Toolkit
Presentations by Audience (.ppt)
#CHIPWorksforKids (.jpg)
Talking Points (.pdf)
Current Public Policy News (.pdf)
Social Media (.pdf)
Priority Issue – Health Coverage for all California Children
United Way's Commitment to Healthier Children and a Strong Economy
All Californians benefit when our children have health insurance and receive preventive care. It is not only good for our kids, but it helps keep costs down for all of us.
The fact is, Californians are already paying for healthcare for uninsured children, but in a less cost-effective way.
That's why United Way believes we must have policies and funding in place at both the state and federal level to ensure all children have access to healthcare. At the same time, United Way understands that business is the engine of California's economy and works to help ensure policies to cover all children are fair to business and helpful to our state's fiscal environment.
Covering California's Children Campaign
Health insurance coverage is vital to our children, their families and our economy. Healthy kids attend school, learn and become viable workers in the future.  We will focus not only on efforts to expand coverage to all children, but work to prevent the numbers of uninsured children from rising.
Here's how:
Increase reimbursement rates to Denti-Cal

Restore funding to the California Children's Dental Disease Prevention Program (CCDDPP)

Support full implementation of California's Pediatric Oral Health Action Plan to reach federal goals

Strengthen collaboration between the newly restored State Office of Oral Health and Medi-Cal
Children Now: Denti-Cal Infographic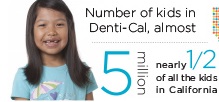 Priority Issue – 2-1-1: Getting People the Help They Need
United Way is committed to making 2-1-1 available to all California residents through its partnership with 2-1-1 CA. Working together, we will ensure families and individuals in need are connected to the building blocks for a good life: education, income, and health.
Here's how we'll do it:
Pursue statewide expansion of 2-1-1.

Establish a partnership with the state and federal governments.

Support federal legislation, federal appropriations requests and other vehicles at both the federal and state level that benefit expansion of 2-1-1 statewide.

Advocate for policies that support universal access to 2-1-1 so all Californians can connect anytime and anywhere–no matter what type of telecommunications system they have access to or where they are in the country, 24 hours a day.
Resources:
http://worldwide.unitedway.org/
Locate your legislator: http://www.leginfo.ca.gov/yourleg.html
Conduct research on a bill: http://www.leginfo.ca.gov/bilinfo.html
For more information about United Way's Advocacy issues, please contact Jennifer Herrera, Regional Advocacy Coordinator, at herrera3@gte.net.
DateSample Tweet/Post4/5/16Have you volunteered for #CDACares in Ventura Co yet? Only 10 more days! Volunteer now! http://bit.ly/1mBpHpZ #LiveUnited4/7/16Reimb rates 4 child dental svcs in Denti-Cal fell 31.6% in CA from 2003 to 2013! See more stats from @AmerDentalAssn http://bit.ly/1UiK4Y74/12/16Try using these fun 2 minute videos from @brush2min2x to keep kids brushing for 2 minutes twice a day! http://bit.ly/1hJPuu84/14/16#CDACares in Ventura happening this weekend! If you know someone who needs dental work, let them know! http://bit.ly/1T7qs8K #ThinkTeeth4/19/16Make brushing fun for your kids with the @brush2min2x app…Check it out here http://bit.ly/1iRdNjz #ThinkTeeth4/21/16Make oral health fun for your kids! Sign up for @AmerToothfairy Kids Club! http://bit.ly/1O6umYG #ThinkTeeth4/26/16Make sure your kids are avoiding these three! #ThinkTeeth (Mouth Monster Image)4/28/16Thank you/stats on CDA Cares (# treated, # of volunteers, etc.) Retweet @jennjenn1973Sample Tweet/Post for #BuildingHealthySmilesI'm #BuildingHealthySmiles by educating (#) parents on how to be sure their kids are brushing correctly.I'm #BuildingHealthySmiles @ (Location of event/education)How are you #BuildingHealthySmiles for kids in your community?I'm #BuildingHealthySmiles by advocating for higher #Denti-Cal reimbursement rates!I'm #BuildingHealthySmiles with the parents from (school, NfL name).